History of the Bill Memorial Library
Frederic Bill was born in that part of Groton which later became Ledyard. Educated locally, he taught school for a time in his native town before resigning to travel and sell books in both this country and Canada. In 1856 he joined his brother Gurdon in the publishing business in Springfield, Massachusetts, until the outbreak of the Civil War in 1861 when he disposed of his interest to his brother. Following the war, he engaged in the importation and manufacture of linen goods in the firm of Tracy & Bill in New York City. He purchased the interest of his partner in 1870 and three years later sold the entire business and retired from commercial life.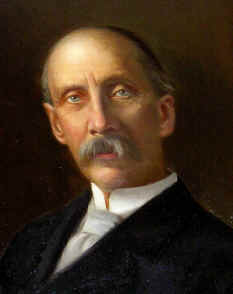 On October 15, 1888, Mr. Bill sent identical letters to a group of Groton citizens in which he stated that he wished to found a library to honor the memory of his two sisters, Eliza and Harriet. For this purpose he had selected some 1700 books and provided cases to be installed in an upper room of the First District schoolhouse, which then stood on the site of the present Groton Heights School.  His aim in the selection of these books, according to his letter, was that "in the volumes collected there may be found that which will tend to stimulate a high ambition, strengthen good resolve, cultivate the taste and afford pleasure to all who may read them."  The library was opened for the distribution of books on November 20, 1888, with 1750 volumes on hand.
During the next year, Mr. Bill had plans drawn up for a new library, choosing for it a site upon the summit of Groton Heights overlooking the Thames River. The original library building, designed by Stephen C. Earle of Worcester, Mass., was constructed of Stony Creek granite, trimmed with Maynard freestone, and finished with a red slate roof. It was dedicated on June 18, 1890.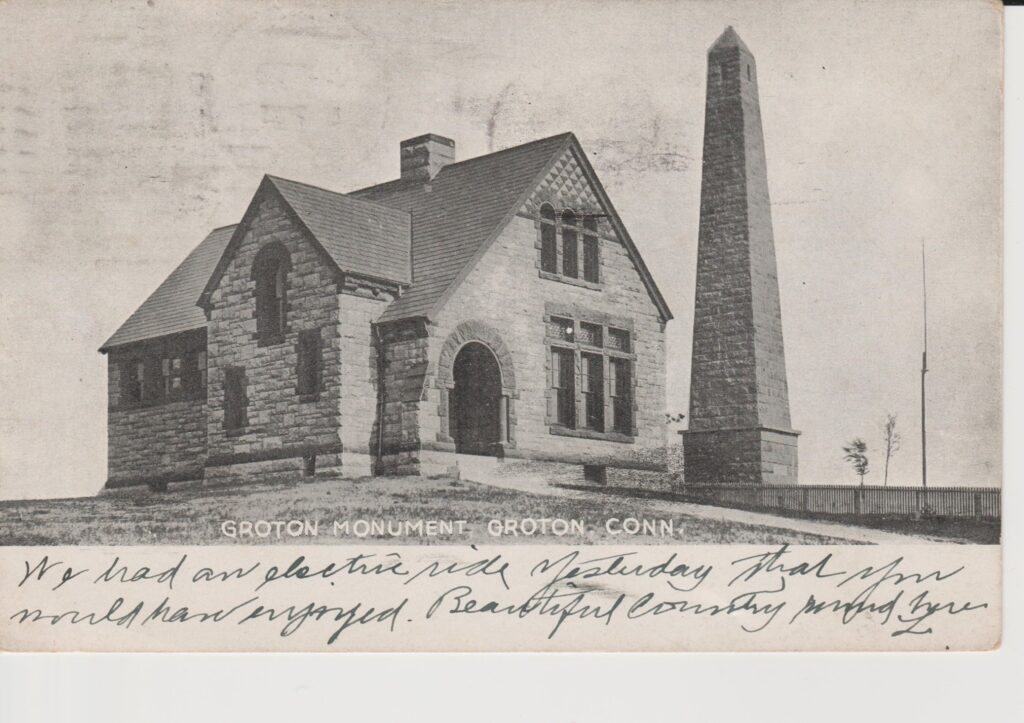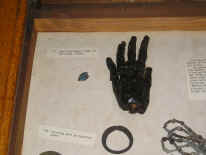 In 1907, extensive additions to the building were made by Mr. Bill for the purpose of enlarging the main reading room and providing space for a natural history museum. At this time a collection of birds was added to a collection of butterflies and paintings. The paintings can still be seen today, and periodically, the butterflies and mysterious mummy's hand. In addition to the BML, Mr. Bill gave generously to the support of the Groton Congregational Church, paid for the Groton Heights School in 1912, and was an early supporter of Connecticut College.
Mr. Bill's first wife, Lucy F. Denison Bill, died April 2, 1894, and on August 14, 1895, he married Julia O. Avery, the first librarian of the Bill Memorial Library.  Mr. Bill died in 1920 at the age of 86.  The tombstones of all three Bills are located on the Library grounds.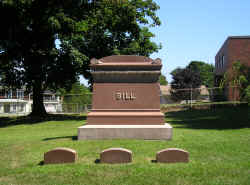 In 1994 a granite addition matching the existing building was completed, providing a spacious new children's room, offices, public restroom and mobility-impaired access.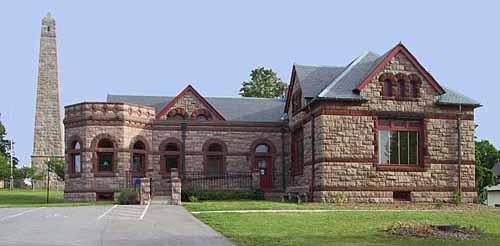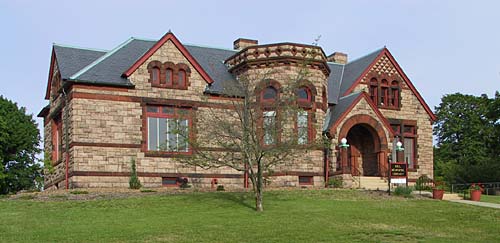 Today, the BML currently holds approximately 21,000 items in both the adult and children's collections. Featured in the main stack area are novels, including current "New York Times" bestsellers, current non-fiction, classics, and large print books. Non-print offerings include DVDs, audio books and CDs, as well as downloadable ebooks and audiobooks through Overdrive. The reference room houses newspapers and magazines and features study space, reference and public access computers. The children's room has an abundant selection of popular and classic fiction, non-fiction, picture books and books on CD. The Young Adult room offers current print and graphic novels, computers, and a comfortable seating/work area. The BML also has a genealogy/local history collection available for research.
The library is also a member of the Connecticut Library Consortium through which it participates in cooperative buying, interlibrary loan, continuing education workshops and other activities. It is a borrowIT CT library permitting reciprocal borrowing statewide, book return delivery through deliverIT CT, and is a participant in researchIT CT, the statewide database.