Life just keeps getting busier and every day seems fuller. It's difficult to keep everything sorted.
Saturday, June 3, at 1 PM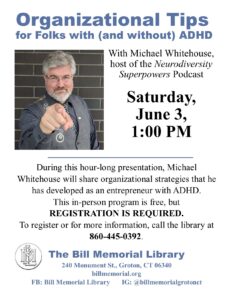 Come join presenter Michael Whitehouse for a program on Organizational Tips for Folks with (and without) ADHD with presenter Michael Whitehouse. As an entrepreneur with ADHD, Whitehouse developed these strategies while growing his coaching practice. "These tips will help ADHD folks get focused and help non-ADHD folks be more effective than ever," he says.
The Guy Who Knows a Guy, Whitehouse moved to Groton, knowing no one. A year later, he was a major connector in the community. In 2020, he went global, connecting entrepreneurs, investors, speakers and others around the world. He is the host of the Neurodiversity Superpowers podcast and The Guy Who Knows a Guy podcast. For more about Whitehouse, visit https://www.guywhoknowsaguy.com.
To register or for more information, call us at 860-445-0392.
Or, to see if our copy of his book,The Guy Who Knows a Guy, is available and place a hold, call us or see our catalog.