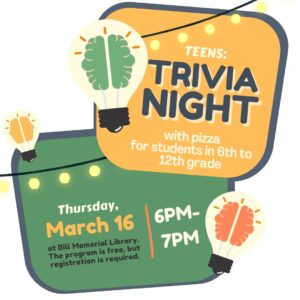 Teens: Join us for an hour of trivia and pizza!

Thursday, March 16th at 6:00 PM
Teens, flex your trivia skill at the Bill Memorial Library of Groton! Pizza will also be served to all attendees. This program happens on Thursday, March 16th, 2023 at 6:00 PM for students in grades 6-12. This program is free, but registration is required. Call for more info, or to sign up.